Amateurs or passionate about hiking? Experience the wide open spaces of the Catalan Country!
An excellent hiking spot characterized by its varied landscape and lush Mediterranean vegetation, our destination has become an essential stopover for all nature enthusiasts.
An exceptional terrain for hiking…
Walk the emblematic Coastal Path between Argelès-sur-Mer and Cerbère, sometimes on the terrace, sometimes with your feet in the water, to find the rhythm of walking, the light and the landscapes that inspired the painters of the XNUMXth century.

Le GR10, the great crossing of the Pyrenees, between Hendaye and Banyuls sur Mer, follows the crests of the Albères massif.
Wherever you are, the grandiose panoramas are guaranteed: between sea and mountains, with a view of the Roussillon plain, the forts, the signal towers, the terraced vines literally plunging into the Big Blue... Explore our rich natural spaces and protected, breathe fresh air, nearly 420 km of marked trails are waiting for you!

Put GEOTREK in your pocket!
With "Géotrek PyMed", free and easy to use with or offline, choose your hiking circuits and discover all the outdoor activities (cycling, trail running, horse riding, diving spots, etc.).
A question, an advice ?
Passionate about our multi-faceted territory, our experts welcome you to advise you on hiking trails. They also make you discover all our outdoor activities:
Hiking Center in Laroque-des-Albères
20 rue du Dr Carboneill
04 48 98 00 09
HIGH SEASON
From July 8 to August 27, 2023:
Monday to Saturday, 9:30 a.m. – 13 p.m. / 15 p.m. – 18:30 p.m.
Sunday and public holidays, 9:30 a.m. – 13 p.m.
MIDDLE AND LOW SEASON
From March 1 to July 7, 2023 and from August 28 to December 22, 2023:
Monday to Friday, 9 a.m. – 12:30 p.m. / 14 p.m. – 17:30 p.m.
Closed weekends and May 1
Hiking reception station in Côte Vermeille, in Port-Vendres
Permanence ensured by the association EVASION CATALANE
Station Square
07 49 22 58 29
Website
All year :
Monday and Wednesday, 9:30 a.m. – 12 p.m.
Tuesday, Thursday and Friday 9:30 a.m. – 12 p.m. / 14 p.m. – 16:30 p.m.
Saturday 10:30 a.m. – 12 p.m. / 14 p.m. – 16:30 p.m.
Closed on Sunday.
Opening on public holidays:
Monday and Wednesday 10:30 a.m. – 13 p.m.
Tuesday, Thursday and Friday 10:30 a.m. – 12 p.m. / 14 p.m. – 17:30 p.m.
The EVASION CATALANE association organizes hikes. It reserves the right to close the reception on these occasions.
Hiking center in Banyuls-sur-Mer
Starting point or arrival of the GR10
04 68 88 31 58
Argelès-sur-Mer Nature Sports Center
in Valmy
04 68 81 47 25
From April to October:
Monday to Friday, 14:00 p.m. – 17:00 p.m.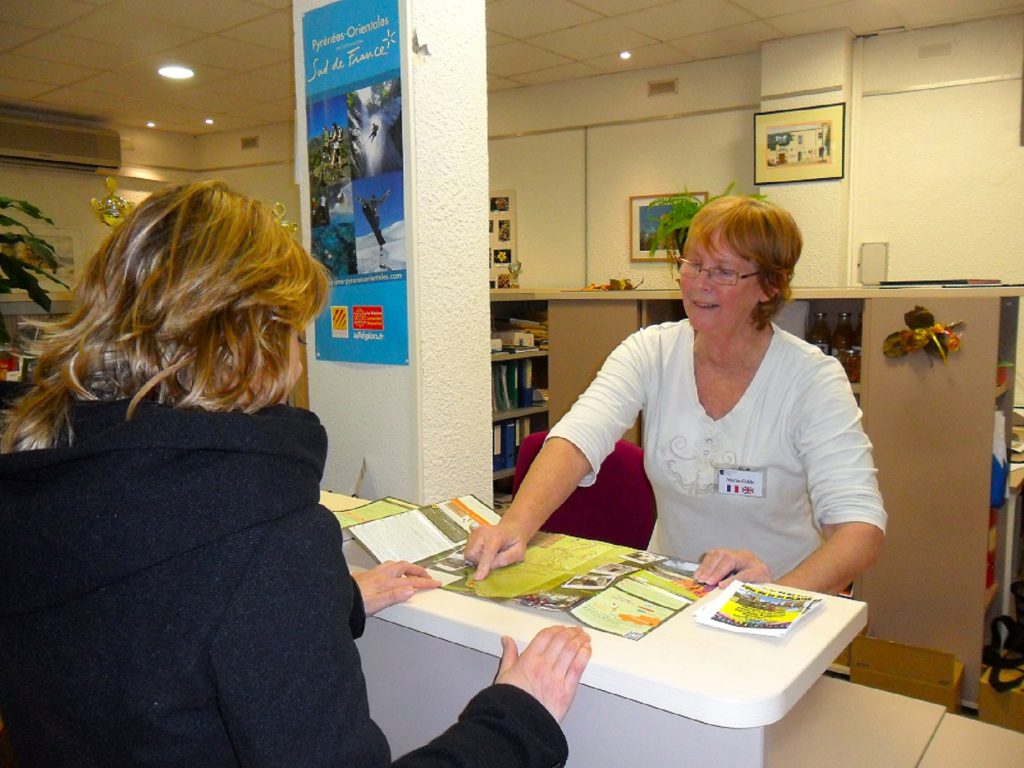 The selection of Hikes
"Mar i Munt"
Our hiking map is now available free of charge in all our Tourist Offices, which also offer the IGN map of the territory for sale.
Hiking in the Mediterranean Pyrenees…